"World famous in New Zealand"
That's a cool quote by  New Zealand drink company 'Lemon and Paeroa".  Lemon and Paeroa comes in a can and  is made in the small town of Paeroa from natural mineral spring water bubbling out of the ground.
We used to mix it with Southern comfort, very retro, or in NZ it's called Kiwiana.
I think I can now use that saying here in the UK.

A few weeks ago I got a Marsh and Parsons real estate flyer through the door. I picked it and thought I recognise that picture.  It was a shot of a model with foils in her hair.
OMG I did this on a hairdressing shoot for the International Hairdressers Journal about 15 years ago!

We did a before and after picture of a model and during the shoot the photographer, Neil, took pictures of the process.  He then put them on the website for what is called Stock Pictures.  Now it is in every Marsh and Parsons window in the country as well as on Tubes and Bus's.
World famous in the UK.

We look out the salon window across to Marsh and Parsons and see it every day, see the pictures below.

Funny how little things like this just pick you up!

Not quite sure how it relates to insulation of a house but they obviously had a big marketing team who spend weeks and millions on the campaign and felt this shot was perfect.

It is perfect. 

Check it out on your high street or next time you're visiting the salon.

For your next perfect appointment call the salon on 02072296318 and speak to Tendai and Sara, both world famous in Notting Hill.
Speak soon,
Terry XX

PS.  Sad to see Jean leave after 8 years but we are interviewing this week for a replacement and have some lovely candidates who will be a good fit to our team.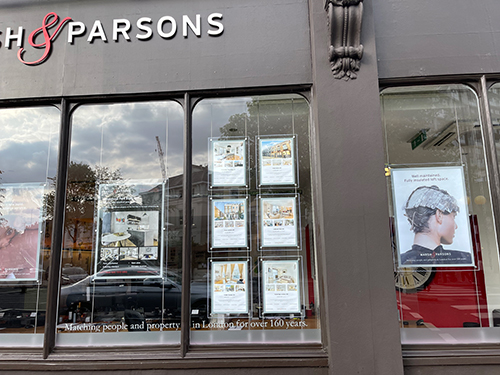 Share