Looking for a new organic & vegan hair salon?
Hair Organics Notting Hill is London's leading organic and mineral hair colouring specialist – only ever using safe, natural, vegan, cruelty-free hair colours and products.  
We are a fully sustainable salon – committed to looking after the environment and the health and wellbeing of all our clients and staff. We were recognised as Green Salon of the Year for 2021 & 2023 at the Salon Business Awards. Sustainability has never looked so good!
Hair Organics True Colours.
Vegan and cruelty free
All the products we use on your hair in the salon, and our take-home products are plant-based, vegan and cruelty-free, and have never been tested on animals. Find out more.

Natural & non-toxic
All of our products are free from gluten, parabens, sodium laryl sulphate (SLS) and oestrogen-mimicking substances. They contain natural and organic ingredients and are suitable for sensitive skin. Find out more about our products.

Better for the environment.
All our packaging is recyclable. We recycle 75% of all our waste including our foils.  Our towels are biodegradable and don't need washing.  We never pour products down the drain. Find out more about our sustainable practices.
Allergy-free
Our semi-permanent watercolours are totally PPD-free and are usually suitable for most people who have had a reaction to a regular hair dye. However we take allergy potential seriously and know that anyone can become allergic to any dye, at any time. All clients take a skin allergy test 48 hours before every colour to prevent this. If you are already allergic our formulator Daniel Field can produce a bespoke allergy-free alternative for you, which we would be more than happy to apply in our salons.
Cancer-friendly
Hair dyes have been linked to endocrine disruption and have both cancer and mutagenic concerns. As well as the care we take choosing ingredients for our hair colourants we also detox each client after colouring to restore the hair's delicate pH and remove any traces of colour residue from within the scalp. The safe gentle nature of the ingredients we use are safe for those living with cancer, undergoing chemotherapy and post cancer treatment.
Pregnancy-safe
Our Natural Highlights, our Organic and Mineral permanent hair colours and our Water Colour semi- permanents are formulated without mutagens and tetragens.  Consequently we feel they are safe to use when trying to conceive, including during IVF, and throughout pregnancy and breast-feeding. A skin allergy test is still advised.
Prices of our most popular services from our Stylists Leo and Kristof are shown below.
Notting Hill Salon
Service
Stylist Price
STYLING
 
Blow dry
£41
Cut & Blow dry
£71
Men's cut
£48
TREATMENTS
 
Revitalising Avocado oil
£25
Intensive Rehydrating Treatment
£33
SOS Smoothing Treatment – starts from
£175

COLOUR

(Includes Cut & Blow dry)

 
Roots
£174
Roots, full length colour
£195

FOILS

(Includes Cut & Blow dry)

 
T-section highlights
£191
Half head highlights
£217
Full head highlights
£291

BALAYAGE

(Does not include Cut & Blow dry)

 
Half Head – without tint
£176
Half Head – with tint
£211
Full Head – without tint
£201
Full Head – with tint
£231
Please call the Salon on 0207 229 6318 for the prices for our Senior Stylist Gleb, and our Creative Director Terry;
or to find out about the other services we offer.
Hair Organics Notting Hill wins Green Salon of the year award again!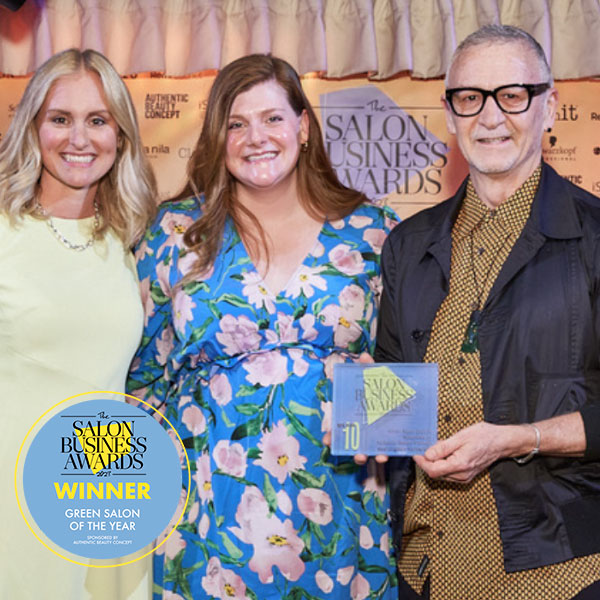 We couldn't be more proud! We are passionate about recycling and saving the planet and have been championing organic, vegan and natural hairdressing from Notting Hill since 2009. The judges at the Salon Business Awards recognised all the ways that we support the environment and the health and well-being of our clients. If you haven't tried us yet, come and see what all the excitement is about.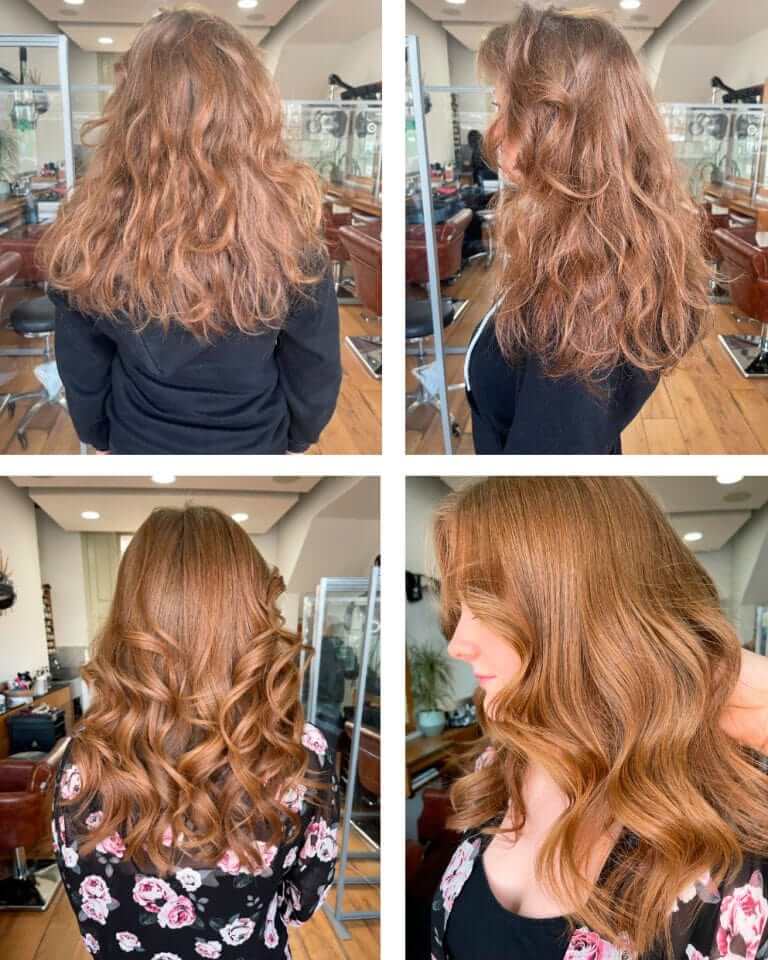 A natural Brazilian blow dry that actually works
"Wow, my hair stayed straight and frizz-free for 3 months. It's just as good as a Brazilian blow dry but without any of the nasty toxic chemicals. Amazing, highly recommend" – Tara
It will give you gorgeous frizz-free hair that's super-easy to manage for 120 days. This two hour in-salon treatment is perfect for all hair types and is unique to Hair Organics.
Our plant-based products are free from gluten, parabens, sodium laryl sulphate (SLS) and oestrogen-mimicking substances.  100% vegan and cruelty-free. All packaging is recyclable.
Words from our happy clients
It's always such a delight to go for my hair appointment at Hair Organics. They really care about what they do, making your hair healthy is at the core of everything, and they use great quality products. Everyone on the team is lovely and they make you feel welcome as soon as you enter their salon. The complimentary tea and cake is such a nice attention too. I have been a regular customer and I have always received the same excellent service every-time. For me, what makes it even more special is the level of care and everyone on the team being approachable. I always look forward to my hair cut, have a lovely time while at the salon and leave lifted up with great hair.
Laura
Just moved to the UK and was desperately looking for my new "go-to" hairdresser. And to my surprise, I found it!! Hair Organics was exactly what I was searching for! Professional advice, service, healthy hair products and incredible hospitality. Thank you!!!
Lucia
Yesterday, I had a huge pleasure to attend an appointment at the Hair Organics salon at Nothing Hill. As a pregnant woman, it was difficult to find a salon, which would be able to provide a safe service for future mother to be. I am soooo grateful that I have found Hair Organics salon, which uses only delicate, safe and fully able to cover all greys and roots products, which leave hair shiny, and have such a rich and deep colours. Arranging first appointment to have a patch test and consultation was super easy and meeting my stylist Leo – to discuss in details what I would like to achieve, was superb. From the entry to the salon, you feel welcomed and the atmosphere is very friendly, I would even say: you feel like at home 🙂 On the day, when I had my colour and hair cut done, I felt that I am in very good hands. My lovely stylist Leo – listened carefully what I would like and managed to find the perfect colour for me! He was very kind, professional and someone who you can trust all the way through! I cannot praise him enough! I really felt pampered and all my expectations were fully met. I would highly recommend using Hair Organics Salon, if you want professional service in a lovely environment 🙂
Aleksandra
I had an amazing experience at Hair Organics in Notting Hill – friendly staff, top quality service and wonderful organic products. I got a medium layered cut and blow dry done by Leo and he did an excellent job! He gave me great advice on the type of cut to get to suit my face shape, I trusted him with my hair and I was extremely happy with the results XD Also Leo was a good laugh! I would definitely recommend this hair salon and will be visiting it again very soon.
Gowsh
I am a new customer. I had terrible experiences previously getting my hair coloured because of allergies. This salon has the right products and some of the best hairdressers I have ever encountered. Patient and professional.
Yasmin A-B
I simply love Hair Organics and its team! I always visit the Notting Hill branch and they never cease to amaze me with their amazing professionalism and with the amazing quality of their treatments, services and products. Mind you, I have a multi textured hair and it is absolutely hard to find a salon in London in which I can trust my hair with my eyes closed: Hair Organics is the one and only so far that truly delivers and I literally make a journey from East to West to be attended there… It is that worthy! A big thanks to Terry, Jean, Leo, Gleb, Sarita and Sara… You guys truly rock and you all made me a big fan of your awesome work! I recommend Hair Organics to anyone who's looking for a 5-star service, with very fair prices and a platinum level team to top it off.
Camilla
My hair is something that I take very seriously. When moving to London I was really nervous about finding a hairdresser that I would enjoy and trust. Luckily I stumbled upon the amazing Terry and Leo from Hair Organics. Both these two have made me feel so loved and looked after whenever I have had a chance to visit. I actually enjoy going to the hair salon partly just to engage with their amazing company.  I am able to put my trust in them completely and know that the colour will look gorgeous and the length will be perfect. I always leave feeling like a movie star. The compliments I get from others after I get my hair done are incredible too.
I would recommend anyone and everyone to come here for colour or treatment. The balayage I had done was beautiful and the treatment I had done prior to lockdown kept my hair growing healthy and happy until I was able to go and see them again once conditions allowed them to reopen. My hair had not been able to grow that long in years!  Thank you so much for everything time and time again. I'll be looking forward to my next visit! X
Bonnie B
From the moment I arrived I knew I had found my local salon (we recently moved to the area). Everyone is lovely, attentive, thoughtful. Multiple people offered me tea or coffee. And when I sat down in Angie's chair, she did not hesitate to share her wisdom around caring for my curly hair. In fact she shared her own personal regimen with me so that I can improve my hair's health and learn to love my curls. The organic products are as good as advertised, too. I took home the thickening spray and can see myself slowly building up my at home set. All in all, highly recommend to anyone in the area (frankly, anyone in London). xx
Juliet B
My long standing and continuous experience with Hair Organics is always one of joy and delight. It is always a client centred approach in everything that they do. From the amazing hair washing experience and expertise of all the stylist to deliver styles and colour that make you look and feel amazing. A big thank you to all the staff. You are fantastic 👏
Susanna H
I was looking for a hair salon in the Notting Hill area that is using natural and organic cosmetics, and that's how I found Hair Organics. I was able to book the same day appointment due to a cancellation of other client, which was great for me. I had an avocado oil scalp treatment, haircut, blow dry and styling by Terry, and I couldn't be more happy. He explained to me every step and all the products that he used, which are all sustainable, organic and made in the UK. Terry is very professional and has a great knowledge. All the team was friendly and kind, I really liked the atmosphere.  The place is beautiful, with a lot of natural lighting and a great location.   As mentioned on their website, there is 20% discount provided for the first-time clients, which is nice.  I'm very happy with my haircut, it's healthy-looking and moisturised. I definitely recommend this place and will come back again.
Klaudia J
First time having my hair dyed after struggling with patch test reactions from other brands….the whole experience was amazing from start to finish. Leo is a complete genius enhancing my hair back to it's natural red and the results are so natural and beautiful. The products are really gentle and I'm chuffed to bits. Shout out to Angie and her amazing head massages too! They go above and beyond to make your experience amazing and I can't recommend them enough, can't wait to be back. Thank you Hair Organics!
L B
I love coming to Hair Organics because the team is so lovely. It's clear that Terry has built a strong culture, and everyone seems to really have fun while they're working. It's so important to me to try to shift towards natural products, and thanks to Terry and co, my hair is looking great!
Danielle London
Once you have tried Hair Organics you will never look for another hairdresser! Very warm welcome each time with a lovely selection of tea & coffee + a little cookie. The hair benefits from non aggressive products so I never feel worried about colouring it as I know it will not get damaged long term. Gleb is amazing, he creates such natural contrasts/highlights using different techniques and he always makes sure to understand what I really want before starting anything.
Anonymous London
Honestly best experience I have had in a hair salon! First time ever I coloured my hair and my hair stylist Gleb was amazing!!!! The head massage 
 just out of this world, I truly would have fallen asleep. The hair colour WOW covered my greys, honestly feel so confident and extremely happy. I also got free hydrating hair treatment which has left my scalp and hair shiny and soft. The service was amazing, coffee was delicious…
Parmjeet, Southall
This is the second time I have the SOS Organic Smoothing treatment and it basically goes like this: come in with dry, curly, frizzy-prone hair that takes ages to style, leave with soft, humidity-resistant hair that's oh-so-easy to manage. And it's as natural as it gets, too.
Flavia, London
What our clients say about Hair Organics
HAIR ORGANICS NOTTING HILL
Hours
Monday – Closed
Tuesday – 9 am to 6:30 pm
Wednesday – 9 am to 6:30 pm
Thursday – 9 am to 8 pm
Friday – 9 am to 8 pm
Saturday – 9:30 am to 6:30 pm
Sunday – 11 am to 6 pm
Location
3 Ladbroke Road, London, W11 3PA