Back to school, back to life?

That's what one client said to me this week.

"Me time", she said and the best place to start is at the hairdressers.
We also have seen a big return of clients getting ready to go back to the office! 

Metro, boulot, dodo that's what the French say, travel, work, sleep.
Will it ever be the same?

We're trying, in salon, to make it as seamless and enjoyable as possible, so bear with us as appointment times are longer with all the covid precautions are still in place.

Me time is not only at the hairdressers but I think think health and wellbeing are equally important.

For me swimming is my outlet, head down, breath to one side and don't stop.  For others its Yoga, Pilates, massage, treatments and so much more and just time out!

One of our many great clients Chloe Ogden, who specialises herself in Acupuncture, has just opened in partnership with other practitioners
Miller's Way Project  in Shepherd's Bush 
A Place to Move, work, play and live better. 

West London – September 2021 – a team of health practitioners are bringing their expertise to Shepherd's Bush and neighbouring communities. With a combined experience of over 40 years in the alternative medicine field, the founding partners of Miller's Way Project officially launched their treatment centre and training space. 
Offering acupuncture and bodywork approaches which are highly effective at reducing symptoms associated with medical conditions, as well as physical and mental training classes to improve balance, flexibility, strength, co-ordination and concentration, the centre provides comprehensive resources for better health. 

Following the apprentice style tradition of learning that has formed their own practices and that of their teachers, and their teachers' teachers, the centre is also dedicated to education and training programs for those interested in learning the Chinese medical arts.

They are having an open weekend "Health and Wellbeing Autumn Festival" on September 25th and 26th at the newly opened centre, Check out the flyers below.

Website is https://www.millerswayproject.com.  It looks incredible. I know I'll be heading there for the opening weekend. 

Good luck Chloe I know you have been working tirelessly, through thick and thin, lately to get this up and running.

We look forward to hearing from you, wherever you are, or seeing you in salon soon.

Speak soon,

Terry.

P.S Chloe is not only a very special client but she is one of the few clients to see me in my speedos at the local pool. Odd, but not awkward, moment in the passageway to the pool.  There was a northern hairdresser on that Naked Attraction show but I think that would be way to much. LOL.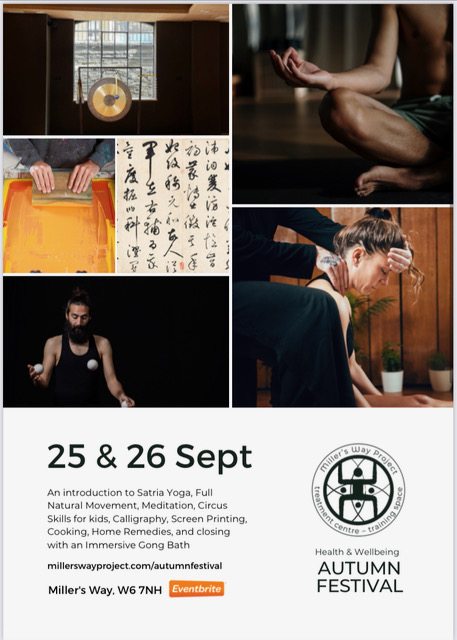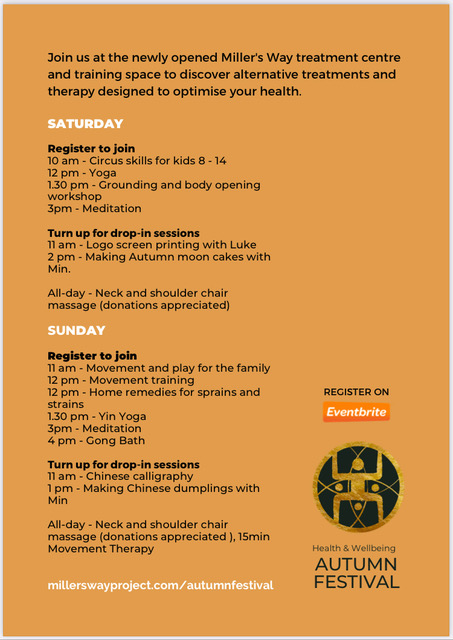 Share